One of my long-ish term projects that I've been thinking about is creating a visual language that would be aesthetically pleasing as well.

Regular Languages are practical for many reasons, but wouldn't it be nice to convey the same information in a more pleasingly manor? The language can be read by all even those who cannot read practical languages…despite having an information recall disability languages fascinate me.
It would also be good for those who are aesthetic learners, people who learn things via visual means. A linguist, Richard Brodie, developed a glyph system that took the english language and added color to it and he called it; Chromaphonoglyphics.
Even the social media icons can be seen as a type of visual language system. In esotericism there is a geometrical language given to us from the ancient Vedas called the Tattwas. Tattwa are geometric images from India. they are  symbols  that can be used in mandala.  One of the most traditional symbol sets and one considered to have innate power to effect realization is by using  Tattwa. These simple geometric symbols can be used in  meditation.
I was then thinking about how other things are conveyed in a compact manor.
I somehow ran across floor medallions and thought that their style would be perfect for conveying a lot of information in a compact space.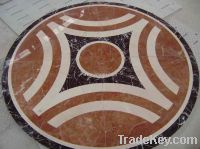 So like the center could be the main idea of the story and the surrounding elements could tell details of the story. Perhaps using philosopher, Keyserling's logic about brain coherence might be interesting to work with.